LYRICS
Monika's songs come to her in the night and through watching a child chase a pigeon or in reaction to a summer rain. They ponder the possibility of change and ask for the courage to dream of a kinder world. With a belief that the human spirit can overcome all things she observes choices and moments that make up life and these become her songs. The honesty of her rich, velvety voice has one purpose – to touch hearts and open minds to the potential in us all.
EARTH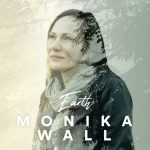 The folk/pop and gospel blues album has been compared to Nora Jones' (Midwest Records). 'Earth' which corresponds with the season of Autumn is about being grounded, finding a place on this earth and seeking a beautiful legacy. It is the first in a series of 4 which will explore the search for true happiness with 'Wind' (Winter), 'Water' (Spring) and 'Fire' (Summer) yet to come.
PARALLEL MONDO
Looking at the parallel worlds in which we all, whether knowingly or unknowingly live, we participate in one world yet our lives are inextricably linked to others. Actions and words have a profound ripple effect on those around us. The musical tone is light while the lyrics consider subjects that matter. This "Norman Rockwell" approach encourages people to look at the world as it could be. Seen through a lens of hope, the possibility of redemptive change is always present.
Part I: Green
These songs are earthy, grounded in daily experiences and choosing happiness. Green seeks integrity in all things. It is life giving and sustaining.
Little Bee
Guy Thing
Human Habitat
Berlin
Get Your Happy On
White Bread Blues
Part II: Blue
Blue is a reflection of light, the sound of tears, the colour of cold, the feeling of air, the essence of love across an ocean. A ribbon of blue wraps itself around these songs of hope and wonder.
Frostfire
Stolen
Looking Glass
Brighter Day
Ade

HANDMAID OF THE LORD
'Handmaid of the Lord' is a work of original music telling the story of the nativity from the point of view of Mary. A 20 song work with short readings between that carry the story forward, the music ranges from folk, pop, jazz and Latin rhythms. It was created in 2010 with many songs coming directly out of scripture. The songs that Mary sings are her thoughts as I imagine them to have been. She was plunged into extraordinarily difficult circumstances as a very young mother, in an (for her) unplanned pregnancy, and given the responsibility of bringing a child into the world with very limited financial resources. It sounds like a very modern scenario. 'Handmaid of the Lord' looks at this journey with all the surrounding circumstances, overcoming many obstacles, as she does her part to welcome the Prince of Peace to earth.